Growth continued throughout 2022 at SafeSend®, a market-leading provider of tax workflow automation and client collaboration technology solutions for tax and accounting professionals. Every area of the company is flourishing, and key leadership has expanded to allow focus and direction in each area of the business. Placing very talented leaders in key positions has allowed the company to keep up with growth while maintaining the high level of service that SafeSend customers are accustomed to, without losing focus in any area of business.
Focused on Having the Right People in the Right Positions
"At SafeSend, we have always prided ourselves as a company with top-notch customer service," said Scott Fleszar, Chief Executive Officer. "We have been intentional in our hiring processes to stay ahead of the growth so that our leadership isn't overtaxed. Making sure we have the right people in the right positions within the company to lead and motivate our teams has been at the forefront of all we do," Fleszar explained.
The most recent addition to SafeSend's executive team is Manir Zaman, Vice President of Engineering, a software technology leader with more than 25 years of experience managing and scaling Engineering, Product, and DevOps teams. Another new addition is Andrea Schwartz, Vice President, Customer Success, bringing over 20 years' expertise to the Customer Success team.
A Solid Foundation Facilitates Growth
SafeSend's Head of People, Erika Languirand, elaborated on the leadership growth, "We began putting the foundation of an expanded leadership team in place last fall with the addition of Matt Smolko, Chief Financial Officer. This year, we have added Adrian Johnson, Vice President of Product, and Tony Kurek, Controller, as well as Zaman and Schwartz." Languirand continued, "We look for people's strengths and know that when put in a position where they thrive, it is a win for the person as well as the company. With this mindset, and the growth we've experienced, several internal promotions have occurred this year as well."
"Our most recent internal shift at the executive level – and prime example of moving someone into a position that makes the best use of their strengths – is the appointment of Brian Stone, who was brought on board last year as Vice President, Customer Success to Vice President, Revenue Operations," Fleszar said. "His passion for data and leadership was a perfect fit to help move our operations forward."
Expansion Reflected in Additional Internal Promotions
Other recent key internal promotions include Shannon Jenks to Vice President of Sales, April Welliver to Director of Sales, and Pam Duplacey to Creative Director.
Always on the lookout for talented, team-oriented people, SafeSend is committed to cultivating an exciting, dynamic environment in which some of the brightest and most creative people are motivated by our vision and the desire to continually help our customers.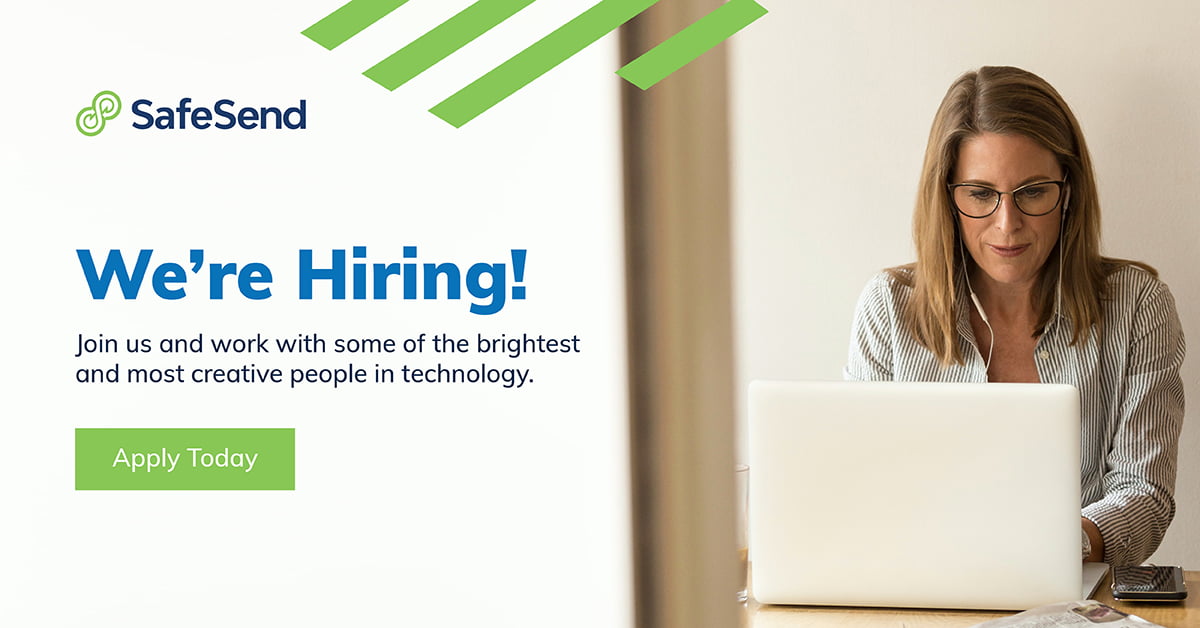 Connect with Us on Social Media