The processes and communication in your firm have a significant impact on decision making and the client experience. Shifting gears from tax deadlines to preparing for next tax season is predictable and while there is comfort in consistency, there's no growth in status quo.
How can you prepare for the upcoming tax season and elevate processes and communication in your firm? One of the best ways is to ensure communication is clear and concise with every client and across all office locations. Using tax automation solutions provides the technology to improve processes and productivity firmwide.
Streamline Processes Firmwide
If the processes in your firm differ with each person who prepares tax returns, the inconsistency can create confusion. Using tax automation solutions provides increased efficiency, enhanced security, an improved client experience, and streamlined procedures—an especially beneficial feature across multiple offices.
"SafeSend has really helped change the digital mindset of our staff and clients. It automated and standardized an inconsistent process in our firm."—Leizel Acres, Friedman & Huey Associates LLP
Increased Consistency and Clarity
Automation reduces human error in processes and when repetitive, time-consuming responsibilities are automated, they are consistent firmwide no matter the size of your firm. Using tax automation ensures clarity and uniformity which improves the structure and communication in your firm. Furthermore, swift, smooth, automated processes free up time for staff to focus more on human interaction with clients.
For a streamlined workflow in your firm, the simple yet powerful tools in the SafeSend Suite eliminate logjams in your firm's processes and elevate the client experience.
"We've been centralizing processes for the last five years and as we centralize them, the SafeSend Suite will become the gold standard."—Russell Goldberg, Partner, Withum
Better Process Management
As an award-winning automation solution, SafeSend Returns within the SafeSend Suite divides, collates, and manages the actions required on any piece of a tax return that could be included. So, whether you need to review the return, sign a document, make a payment, or distribute K-1s, the SafeSend Suite manages the various parts that call for different actions from the firm as well as from the client. How your firm manages and communicates what's expected from your client is clear and guided – without requiring a novel of instructions.
"We have multiple offices and we're able to centralize our assembly process where clients are all using SafeSend Returns. It's been a big impact for us saving us time."—Jenni Bieck, Director of Technology, Huberty CPAs
Tracking and reporting documents can be improved using tax automation as well. Accurate, up-to-the-minute information is readily available with the SafeSend Suite. Staff time spent calling and emailing clients is also reduced since automated reminders prompt clients to sign and return documents.
The SafeSend Suite handles business tax returns, 1120s, and even gives clients the ability to electronically distribute K-1s. And because everyone has access, everyone can help every client, eliminating bottlenecks.
"With 30-35 professionals in our two Colorado offices, different methods of delivering tax returns were being employed simultaneously. SafeSend provides a consistent, professional process for delivering tax returns company wide."—Eric Morgan, Senior Manager, BiggsKofford, P.C.
Lighten Partner and Tax Professional Workload
Firm frustrations can stem from the bottlenecks that occur when the partner or tax preparer is heavily involved in a hands-on approach around the delivery of a tax return. When the tax professionals in your firm are immersed in tasks that don't require their expertise, it can overwhelm them and hold up the delivery process for the admin team. Adopting the SafeSend Suite allows the firm to operate more effectively using tax automation that empowers staff to print and deliver tax returns following review.
"The SafeSend Suite® places delivery responsibility on the admins, giving the tax professionals more time to do their work—with less client communication during busy periods."—Brooke Potts, Tax Administration Manager, Perelson Weiner, LLP
Further procedural streamlining is possible when all the payment information for vouchers and estimates is managed using tax automation. Sending quarterly estimate reminders for those payments to clients is handled automatically as well.
If amounts change, using an automation solution specifically designed for the tax and accounting profession provides the ability to update those estimate coupons at a later date if those amounts change so they are getting reminders for the correct amount. Your firm will even have the option to include the invoice for your tax preparation fees and it's all automatically divided up and managed for you with the click of a button.
"SafeSend Returns® cut our assembly time in half but still gave our manager/partner group control and security."—Liz Belcher, Partner, Sponsel CPA Group
"The SafeSend Suite® places delivery responsibility on the admins, giving the tax professionals more time to do their work."—Brooke Potts, Tax Administration Manager, Perelson Weiner, LLP
Seamless & Consistent Client Experience
The powerful functionality of the SafeSend Suite offers a single source for automated solutions to address every client touchpoint across the tax engagement journey from tax ready to finish and file.
Receiving one email that includes your firm's branding ensures your clients will easily recognize communication from you. Providing simple, secure access to their documents saves clients time versus multiple emails for their engagement letter, personal tax return, business return, and other documents.
"I use SafeSend Returns both for my LLC and for my personal returns – I am a big fan. For a technology solution, it's very intuitive and easy to use."—Gordon Krater, Retired Firm Managing Partner, Plante Moran, PLLC
Clients also appreciate receiving information in an intuitive, guided format that is recognizable to them. Their experience is familiar and provides consistency to their client experience from engagement letters to tax returns. The streamlined user interface of the SafeSend Suite boosts completion rates and lowers unnecessary client calls resulting in more productive office time for you and your staff.
Providing clients with a straightforward way to send a copy of their tax return to their bank or any third party enhances their experience. Clients are empowered to securely send their return in a timely manner without needing to involve the firm.
"Consistency builds comfort with our clientele. The SafeSend Suite® has provided us a consistent platform for electronic organizers, signature collection, and return delivery."—Curtis Herbolsheimer, Department Head – Individual Tax, Copland Buhl & Company PLLP
Improve your firm processes and communication using tax automation. Minimize staff workload while optimizing your ROI. The SafeSend Suite eliminates pain points and elevates the client experience.
"The SafeSend Suite® streamlines the tax return delivery process for us, creating capacity for us to take on more clients."—Mary Woodward, Administrative Support Specialist, Cohos Advisors, PLLC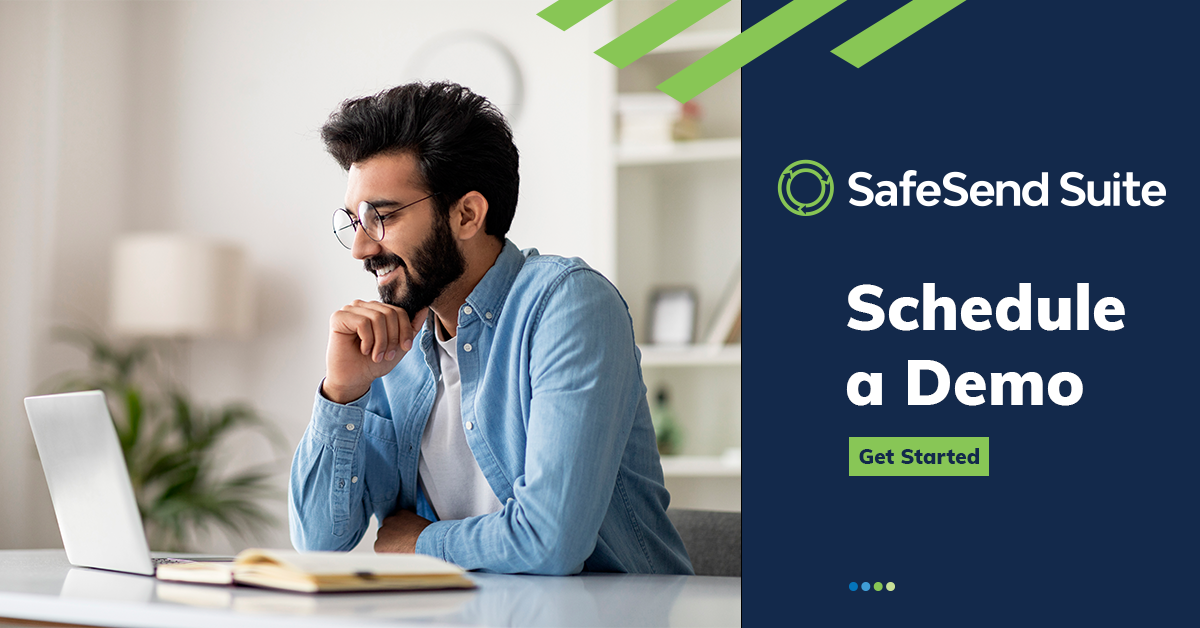 Schedule Your SafeSend Suite Demo Today
The powerful functionality of the SafeSend Suite offers tax and accounting professionals automated solutions to address every client touchpoint across the tax engagement. Eliminate pain points for your firm and streamline the journey from tax ready to finish and file with the SafeSend Suite.
Connect with Us on Social Media
Facebook | Twitter | LinkedIn | YouTube