SafeSend Returns Announces Support of UltraTax CS®
Thursday, Apr 25, 2019 by Steve Dusablon
SafeSend Returns, the award-winning automated electronic assembly & delivery system announced support of UltraTax CS prepared tax returns. The initial release will support 1040s, shortly followed by additional return types: 1041, 1120, 1120s, and 1065. Firms utilizing the Thomson Reuters® tax solution UltraTax CS can now deploy SafeSend Returns to their tax preparation teams to reduce assembly & delivery time down to just four minutes or less.
SafeSend Returns is the only industry solution that provides accounting firms an automated, centralized and standardized way to assemble and deliver tax returns digitally; eliminating manual time and labor by the firm's staff and providing the best taxpayer experience on the market. Feature highlights include auto-collation & assembly, e-signatures for 8879s, estimated payment (ES) coupon presentment, ES payment options, email reminders, K-1 distribution and tax preparation fee invoices with direct payment options.
Andrew Hatfield co-Founder of SafeSend, commented on the new offering: "Support of firms using UltraTax CS was a natural progression for SafeSend Returns as over a third of the Top 300 firms are currently users. Firms of all sizes love the $40 per return savings! We are thrilled to be extending the benefits of the only all-inclusive electronic assembly & delivery system on the market today, that automates and organizes tax returns in minutes, to firms preparing returns with UltraTax CS." He continued, "With 250,000 returns estimated to be processed for the 2018 tax season, using the SafeSend Returns delivery system, the profession continues to embrace new technologies that optimize workflows and improve the taxpayer experience."
SafeSend Returns is the winner of the Innovation in Tax & Accounting award by CPA Practice Advisor Magazine in 2016 and 2017; a transformational product that automates the tax return assembly and delivery process to ensure forward-thinking firms are truly digital. The solution takes the manual labor and cost out of assembling, delivering, and tracking tax returns while dramatically improving the client experience.
Automation is a top priority of CPA firms looking to reduce overhead costs and take the pains out of repetitive tax season processes. SafeSend Returns provides the most streamlined tax return assembly & delivery process in the tax and accounting profession for both individual and business returns. The old paper-based processes are costly, outdated, and inefficient. SafeSend Returns is transforming the way tax returns are completed and moving the needle on true automation.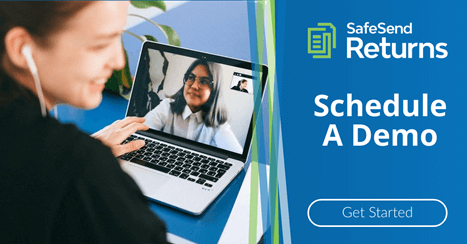 Schedule Your SafeSend Returns Demo Today!
SafeSend Returns, is a multi-year winner of the CPA Practice Advisor Technology Innovation Award. SafeSend Returns eliminates the manual, labor-intensive elements many tax departments experience producing client-ready tax returns. Schedule a demo!
Connect with Us on Social Media