SafeSend, a market-leading provider of technology solutions for tax and accounting professionals, expanded its thought leadership engagements across professional organizations by providing education on the impact of tax process automation through multiple speaking opportunities, webinars, and roundtables benefitting the tax and accounting profession.
Helping Tax Professionals Gather Information
Developing relationships with the most progressive firm associations, alliances, and membership groups in the tax and accounting profession allows firms to take full advantage of SafeSend's cloud-based solutions, digital workflow technology, and a modern, high-end client experience by combining powerful automation with the company's integrated technology partners. These partnerships and alliances help professionals gather the most up-to-date information through the education, thought leadership, and sponsorship of roundtables and conferences that SafeSend provides.
Automation Solution Discussions
In the first half of 2023, SafeSend partnered with several groups to bring educational information to address real-world firm challenges and share firm success stories with their membership.
SafeSend co-founder and Chief Growth Officer, Andrew Hatfield, shared insight during a panel discussion at the BDO Alliance Conference in May, "Using Automation to Lighten Your Load During Busy Season." Conversation focused on reducing capacity issues facing firms by utilizing tax technology to automate workflow and streamline processes. Hatfield educated the audience on ways in which firms are making busy season less busy without decreasing revenue. Another panel member and SafeSend customer, W. Gordon Spoor II, partner at Spoor, Bunch & Franz, provided insight into the ways the SafeSend Suite has improved the tax process for their firm, saving them both time and money.
A new event this year, Accounting Today Firm Growth Forum, offered opportunities for tax professionals to earn CPE credit with education focused on firm growth. SafeSend Senior Manager of Product Specialists, Steven Lyon, presented "Tax Workflow Automation: Make Your Tech Investment Count," to a receptive audience that learned to recognize the new technological advances that are automating tax practices and how to evaluate and develop a client-centric approach for tax engagements.
Also in May, SafeSend participated in the Tax Technology Panel at the RSM Alliance Leaders Conference. SafeSend Senior Product Enthusiast, Mike Cuffle, participated in the discussion focused on Tax Automation, Organizers, and Engagement Letters. Firms looking to prioritize efficiency and security in a cost-effective manner, learned more about innovative technology solutions that help them serve their clients better through this meaningful educational opportunity for tax professionals.
At the largest tax and accounting conference of the year, AICPA Engage, SafeSend presented, "How 65% of the Top 500 Firms Solve Their 8879 E-sign Problems," to a live and virtual audience. This Educational Lab outlined cost-saving automation solutions that benefit firms and their clients, resulting in a majority of signed documents being returned in less than a day.
"No one solves anything on their own," said SafeSend Chief Executive Officer, Scott Fleszar. "Our thought leadership around automating the tax process is part of our ongoing education for the profession."
Alliances and Partnerships
Additionally, SafeSend's longtime partnership with Thomson Reuters® continues to flourish. Integrating the SafeSend Suite® with UltraTax CS® and GoSystem® Tax RS tax preparation software allows firms to automate the entire tax journey, from getting tax ready to tax return delivery and e-signing.
These partnerships are a vital part of SafeSend's mission to solve real-world firm challenges and automate the entire tax journey from start to finish. "We continue to innovate, striving to be the best company we can be and serve the needs of all our customers," remarked Steve Dusablon, SafeSend co-founder and Chief Innovation Officer.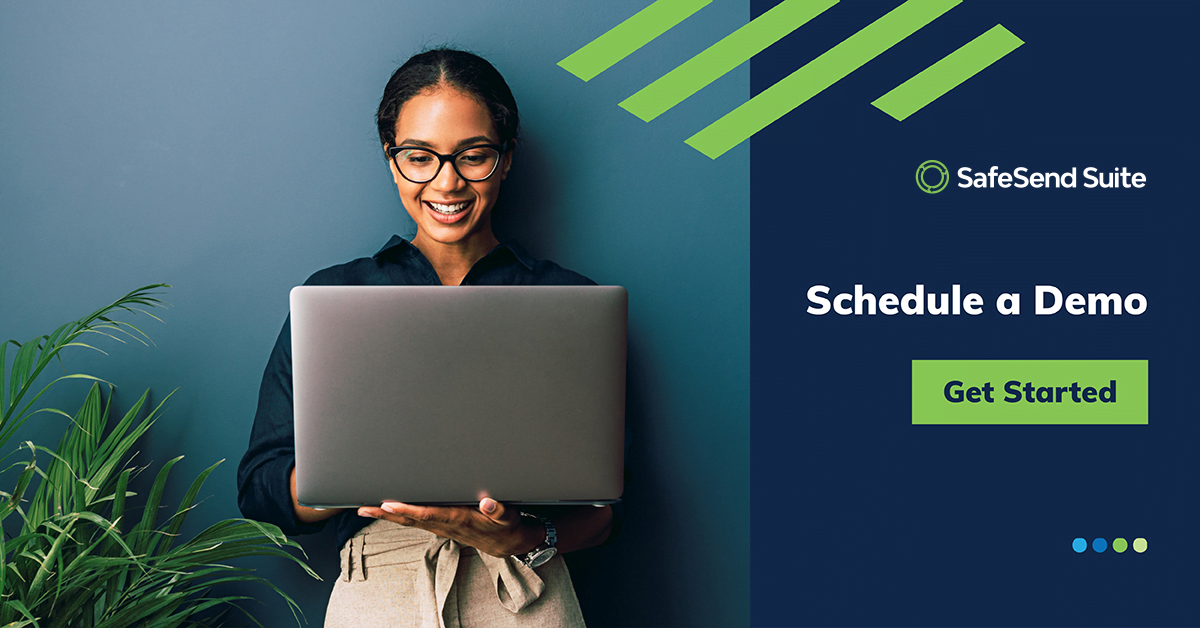 Schedule Your SafeSend Suite Demo Today
SafeSend Returns is the flagship solution in the SafeSend Suite and a multi-year winner of the CPA Practice Advisor Technology Innovation Award. SafeSend Returns eliminates the manual, labor-intensive elements many tax departments experience producing client-ready tax returns.
Connect with Us on Social Media
Facebook | Twitter | LinkedIn | YouTube