SafeSend has recognized the need to attract and retain talent without geographic boundaries since the company's founding in 2008. SafeSend's authentic culture is felt throughout the organization both by the remote and hybrid employees. In a recent company-wide survey, over 96% of employees felt valued as an employee, and over 97% enjoy working with their team.
Remote & Hybrid Work Expands Field of Talent
"SafeSend has always been a company that kept an eye on the future," explained Chief Executive Officer Scott Fleszar. "When physical location is taken out of the equation, the field of talent is limitless, and we can build a team of the best and brightest no matter their zip code or time zone."
Always on the lookout for talented, team-oriented people, SafeSend is committed to cultivating an exciting, dynamic, environment in which some of the brightest and most creative people are motivated by SafeSend's vision and the desire to continually help our customers.
Commitment to Collaboration With Remote & Hybrid Work
Leading SafeSend's People Operations, Head of People Erika Languirand said, "We have a unique team of individuals who are committed to creating an environment of trust, innovation, and collaboration no matter the physical miles between us. By embracing both a remote and hybrid workforce where geographic location allows, our diverse team can work together with passion to move the profession forward, ultimately better serving our customers."
Grow with SafeSend
We are driven by our vision and are always on the lookout for talented, team-oriented people who want to help us continue to push forward. All of SafeSend's open positions offer a fun, flexible work environment where employee contributions are noticed, and professional growth is encouraged.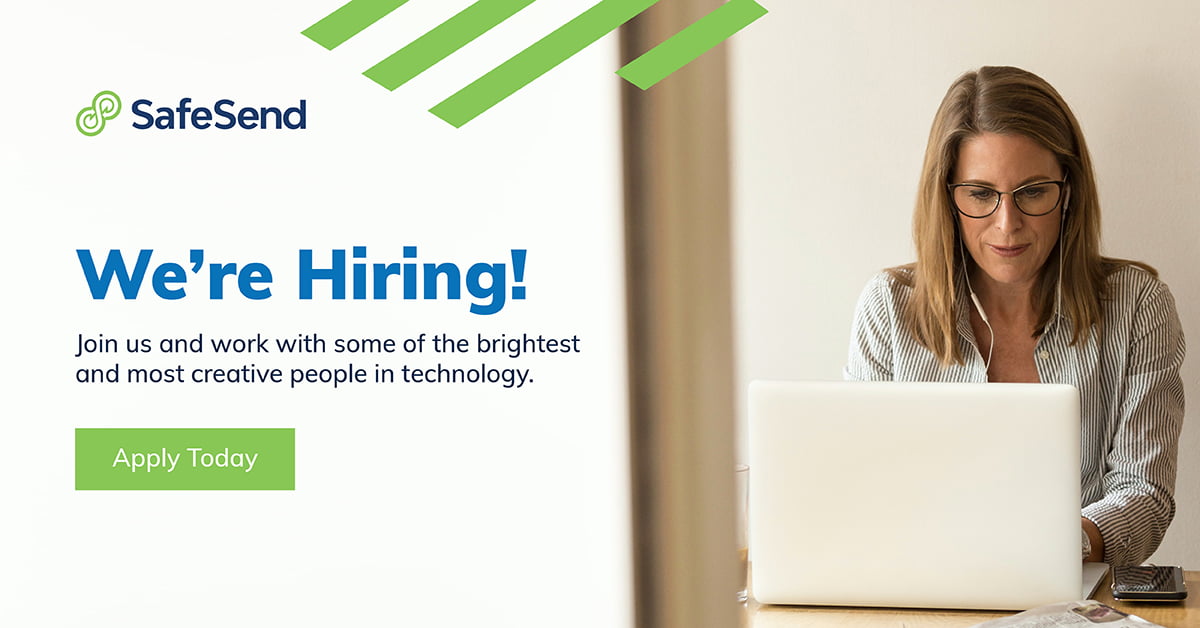 Connect with Us on Social Media