SafeSend®, a market-leading provider of tax workflow automation and client collaboration technology solutions for tax and accounting professionals, reported a record number of engagement letters, 1040 tax organizers, source documents, completed tax returns, and other associated tax files being exchanged between firms and their clients across their SafeSend Suite® platform this tax season.
SafeSend Suite Usage Up 70% Year-Over-Year
"Practitioners are seeing the benefits of automation technology and offering clients intuitive, convenient, and easy-to-use online tools tightly linked to the firm," remarked Steve Dusablon, co-founder and Chief Innovation Officer. "For the tax season that just concluded, we saw usage of the SafeSend Suite increase 70% year-over-year by our accounting firm customers and their clients. I'm especially proud of the milestones we're seeing with our flagship solution, SafeSend Returns®. We now have firms delivering millions of completed tax returns to their clients using SafeSend Returns every year."
Automation Solutions for Real-World Problems
The 70% year-over-year growth aligns with broader trends across the profession including staffing challenges and the need for technology that supports staff working from anywhere, and clients perhaps never coming to the office. Out of necessity, firms are investing in technology that eliminates manual work, offers a high-end experience for their clients, mitigates security risks, and consolidates disparate tech solutions.
"This tremendous growth reflects the commitment we have to our customers and providing innovative solutions to real-world problems in the tax and accounting profession," Dusablon said.
SafeSend Makes Life Easier for Firms and Their Clients
The continued growth of how firms are using the SafeSend Suite extends beyond delivery of completed tax returns to clients. SafeSend Signatures™, specifically designed for sending one-off documents that require e-signature, such as engagement letters or consent forms, realized a 102% year-over-year increase in client deliveries. And SafeSend Organizers™, initially released in 2020, has seen a 139% year-over-year increase.
"SafeSend Organizers is a product we developed during the pandemic to help firms offer clients an easy way to digitally provide their source documents, updated information, and questionnaire answers ahead of tax prep work. This was in direct response to what firms were telling us they needed and led to our fillable tax organizer solution that makes life easier for firms and their clients. The phenomenal growth we've seen in adoption is in direct response to the improvements we continue to make based on their feedback," said Andrew Hatfield, co-founder and Chief Growth Officer. "Our customers are reporting completion rates with SafeSend Organizers much higher than traditional paper organizers, which is a clear indicator of their clients' satisfaction."
One Platform Addresses All Firm-Client Touchpoints
The SafeSend Suite covers all of the firm-client touchpoints across the full tax preparation engagement. "We're saving our customers thousands of dollars per year as they consolidate the tech platforms in use in their firm. The SafeSend Suite goes well beyond tax return delivery and includes year-round e-sign needs, secure file exchange, and more. A one-stop shop that offers firm staff and firm clients the convenience and ease of using one platform for all their interactions and collaboration," remarked Dusablon.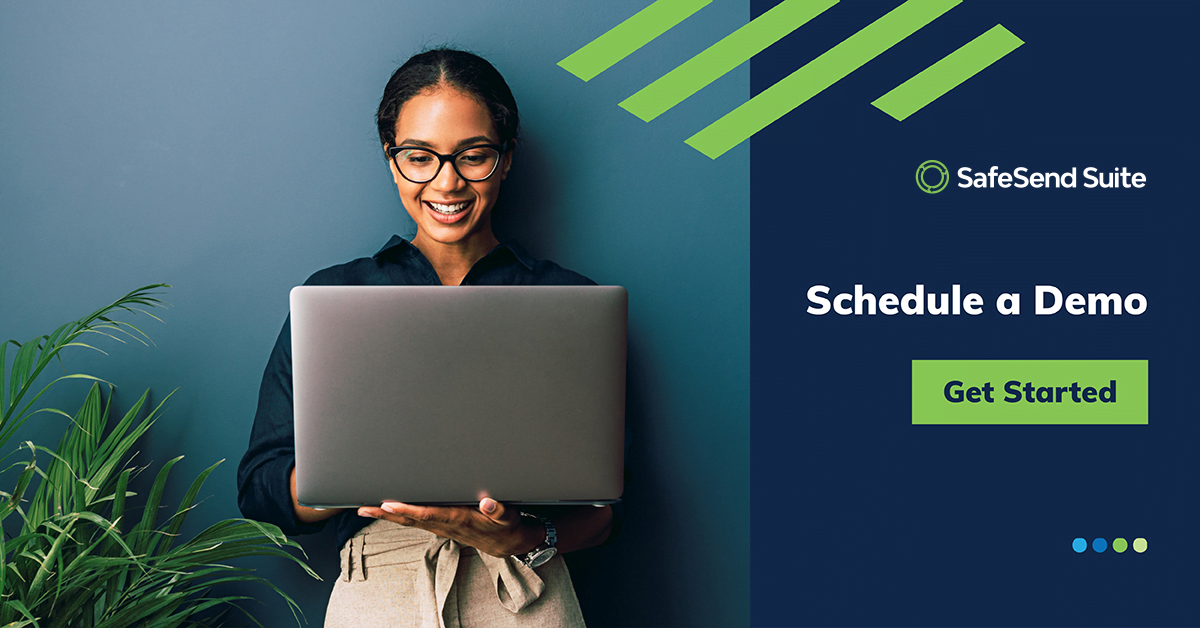 Schedule Your SafeSend Suite Demo Today 
SafeSend Returns is the flagship solution in the SafeSend Suite and a multi-year winner of the CPA Practice Advisor Technology Innovation Award. SafeSend Returns eliminates the manual, labor-intensive elements many tax departments experience producing client-ready tax returns.
Connect with Us on Social Media