SafeSend Appoints Scott Fleszar as Chief Executive Officer
Friday, Nov 06, 2020 by Steve Dusablon
SafeSend announced today, Scott Fleszar has been appointed Chief Executive Officer, effective immediately. He will assume day-to-day leadership of the business and continue championing operational and growth strategies. Fleszar, a technology markets and tax and accounting firm sector veteran, has served as SafeSend's Chief Operating and Strategy Officer since he joined the business in November 2019.
Growth of SafeSend
"We brought Scott on one year ago to help us grow and scale our business, and optimize our market opportunities with the award winning SafeSend Returns product offering," said Steve Dusablon, Co-Founder, President and Chief Innovation Officer of SafeSend. "Under his direction we have built out our organization structure, added top employment talent, and established a dynamic, team-oriented culture. His leadership and business acumen have accelerated our company and positioned us for even stronger growth moving forward. We are lucky to have him as our new CEO. My partners and I are confident that Scott is the right person to build on our momentum and take our organization to the next level. He is an accomplished leader with a proven track record developing people, operating efficiently at scale, and delighting customers."
"I am honored and excited to have been selected to lead our business forward and support the organization's ambitious outlook," said Fleszar. "We have a great culture and high employee engagement. Our unique, differentiated solutions deliver great value for tax and accounting professionals, and our focus on customer needs, going above and beyond, has enabled us to post strong growth. This is an extraordinary opportunity to lead a progressive and innovative business." Scott will be based at SafeSend's Ann Arbor, Michigan offices.
Industry Veterans & Thought Leaders
Prior to joining SafeSend, Fleszar served in a variety of leadership roles at Thomson Reuters in their business that serves tax and accounting professionals with technology and content solutions. Fleszar has over 25 years of experience across operations, marketing, product management, strategy, and general management.
"It has been a great privilege to serve as the CEO of SafeSend since founding the company with Andrew Hatfield twelve years ago. I am incredibly proud of everything we have accomplished and where the business is today," said Dusablon. "With the overall running of the business in good hands with Scott, I'm especially looking forward to dedicating more of my time to the areas I enjoy most– building new products and solving real-world problems for our customers. In my new role as President and Chief Innovation Officer, I will be leading our efforts to bring to market automation solutions across all client touchpoints of the professional tax preparation engagement."
In addition to Dusablon and Fleszar, the SafeSend Executive leadership team includes Co-Founder and Chief Growth Officer, Andrew Hatfield, and Chief Technology Officer, Rahul Chandran. Hatfield leads sales strategy, revenue growth, and strategic partnerships. Chandran is responsible for the design, strategy, and deployment of the company's technology roadmap, and overseeing the release of best-in-class products.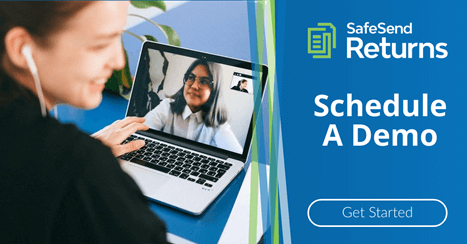 Schedule Your SafeSend Returns Demo Today!
SafeSend Returns, is a multi-year winner of the CPA Practice Advisor Technology Innovation Award. SafeSend Returns eliminates the manual, labor-intensive elements many tax departments experience producing client-ready tax returns. Schedule a demo!
Connect with Us on Social Media